Sanyah Carter got quite the surprise Thursday morning when ABSS Superintendent Dr. Dain Butler walked in her classroom announcing that she was his "Superintendent's Choice" for the 2023 Governor's School.
Carter, who is a junior at Graham High School, will be attending this summer's Governor's School for Natural Sciences.
"I'm really proud of the work you have done here at Graham and know you will represent us well," Butler said.
Carter's family was also in attendance for the surprise announcement.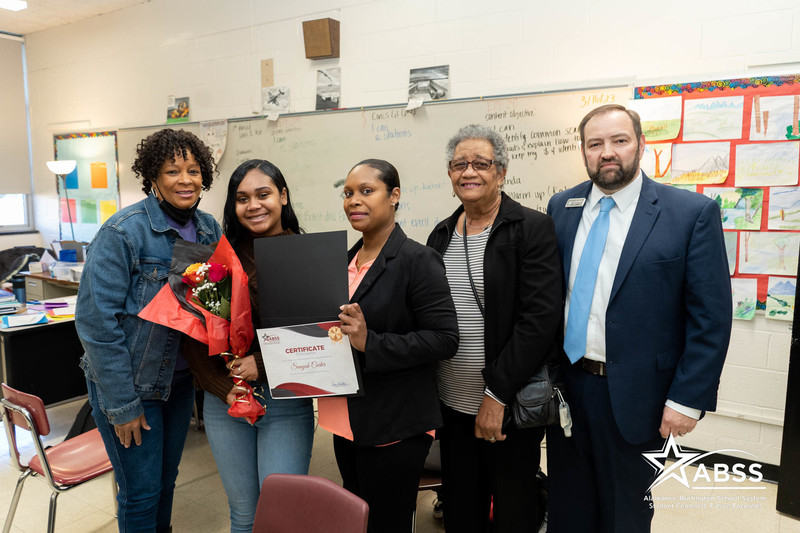 Other ABSS students attending Governor's School this summer are:
| | | |
| --- | --- | --- |
| Mathematics | Alamance Virtual School | Mostafa Youssef |
| Mathematics | Cummings High School | Taylor Grant |
| English | Eastern Alamance High School | Anthony GuerraFlores |
| Mathematics | Eastern Alamance High School | Bridget Galicia |
| Instrumental Music - Trombone | Eastern Alamance High School | Mary Long |
| Visual Art | Eastern Alamance High School | Isabella Walters |
| Natural Science | Graham High School | Sanyah Carter |
| English | Southern Alamance High School | Rachel Ren |
| Dance | Southern Alamance High School | Emerson Smith |
| Social Science | Williams High School | Henri Lanzoni |