The Alamance-Burlington School System Board of Education officially adopted a resolution Monday night asking the Alamance County Commissioners for funding to help the District remain competitive by increasing the teaching supplement, increasing coaching stipends, and hiring athletic trainers at each high school.
An additional $1.3 million in local funding would be needed to cover the 1% teacher supplement increase from 10.5%, 11.5%, and 12.5%, depending upon years of service, to 11.5%, 12.5%, and 13.5%, respectively.
ABSS Chief Finance Officer Kim McVey told the Board, "Teaching is certainly not an 8 to 5 job. Our teachers spend hours preparing for instruction, attending mandatory meetings, grading, bus/car duty, making parent contacts, and working extracurricular activities, to name a few."
McVey said this increase would help the District recruit and retain highly qualified staff as well as compensate teachers and instructional support staff by remaining competitive with surrounding school communities.
Additionally the District is requesting $514,965 to bring on certified athletic trainers to ensure student safety at all high school athletic events and $180,000 to increase the coaching stipend by $400 for each paid coaching position, a stipend that has not been adjusted in over 20 years.
The District's total local funding request for the fiscal year 2023-2024 is $50,822,116 for local operational expenses and a continued $3,300,000 for capital outlay.
Capital Projects
Chief Operations Officer Greg Hook presented the District's Top 10 capital projects which includes traffic improvements, roof repairs, and additional interior and exterior cameras and electronic keycards at schools.
Traffic Projects
Alexander Wilson - Bidder requests negotiation due to price increases, Budget - $860,000
EM Holt - Awaiting Storm/Erosion Evaluation before design work, Budget - $1,200,000
Altamahaw-Ossipee - In Design Budget $790,625
Roofs
Woodlawn - 75% Complete ($1,755,750)
Graham High - In Design ($5,000,000)
Haw River Elem. - In Design ($1,941,310)
Graham Middle - In Design ($1,306,540)
Southern Alamance High - In Design ($5,000,000)
Masonry Work
Haw River Elementary - Brick Veneer (In Design) Budget - $575,000
Middle School Cameras
Broadview Middle - In progress adding new
Hawfields Middle - In Design
Southern Middle - In Design
Western Middle - In Design
Woodlawn Middle - In Design
Total Budget - $500,000
Southeast Alamance Technology
In other action, the Board of Education awarded local vendor Camcor, Inc. the contract to provide educational technology to classrooms at the new Southeast Alamance High School. Camcor, Inc., is the reseller for Smart Technologies, makers of Classroom Interactive Displays. The projected cost is $220,780.17 and would be paid from bond funds.
Board Vacancy
The Board agreed to begin accepting letters of interest through June 1, 2023 from those who may be interested in serving on the Board of Education once longtime Board member Patsy Simpson retires. Legally the Board cannot begin the process of filling her seat until she vacates it at the end of May.
Board Recognitions
The Board also recognized more than 20 students who recently won state titles in various clubs. Eastern High School students Owen Sawyer, Samuel Grindstaff, and Kellen Dierckson attended the DECA Career Development Conference in February where they all placed, earning them an opportunity to compete at the DECA International Career Development Conference on April 22-25 in Orlando, Florida.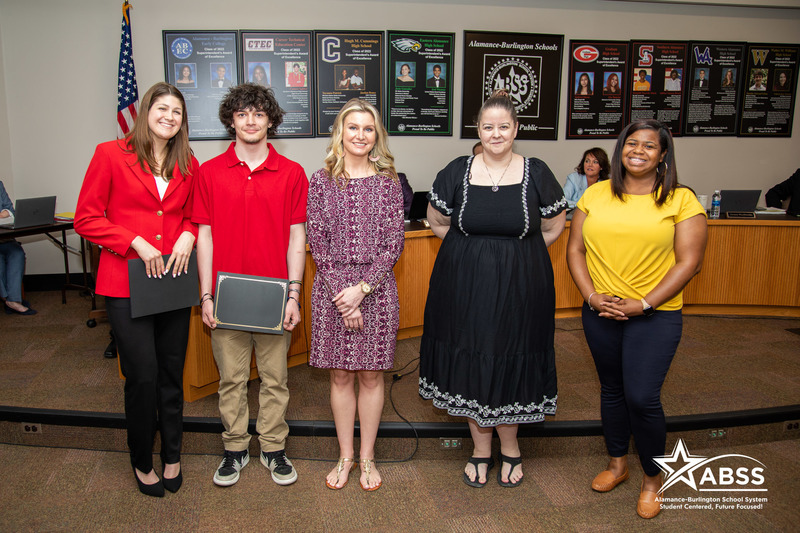 Braylee Carter competed in Digital Stories for Change. She earned the right to present her project at the national level at the area Family Career and Community Leaders of America Conference. She has been invited to the national FCCLA competition in Denver Colorado in July.
Kayly Tran competed in the Focus on Children event and won a Bronze Medal. Caleb Hackney, Jaziah Ruffin, and Teauna Thomas competed in the Chapter Service Project Display Event and were awarded a Bronze Medal.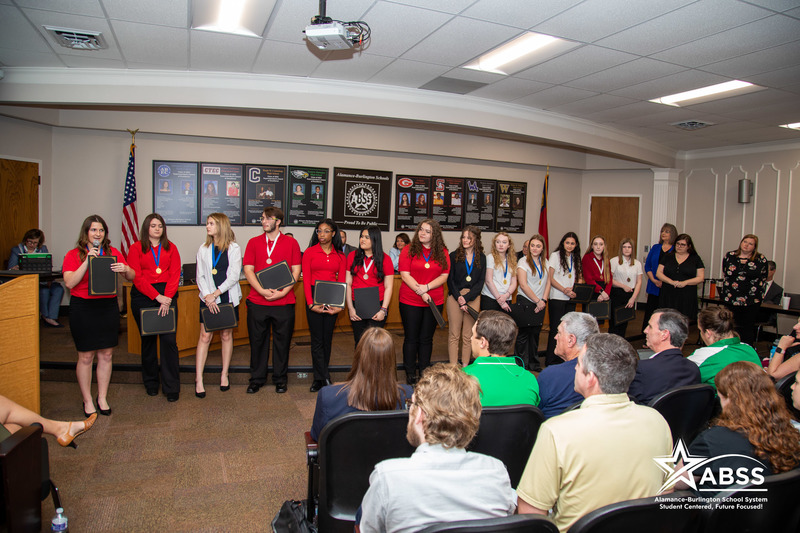 Southern High School's FCCLA had 18 students compete in the state competition in Greensboro. 1st and 2nd place winners have been invited to compete nationally.
Chapter Review in Display - Gold - 2nd place
Tori Cunio
Emersen Burke
Entrepreneurship - Gold - 2nd place
Brook Welch
Event Management - Gold - 2nd place
Addison Kitchens and Sophia Parsley
Hospitality, Tourism, and Recreation - Bronze - 6th place
Adriana Mitchell
Ethan Finch
Leigha Dyson
Interpersonal Communications - Bronze - 2nd place
Sasha Garcia-Alegria
Javion Snipes
Promote and Publicize FCCLA - Gold - 1st place
Olivia Davis
Sawyer Green
Say Yes to FCS Education - Bronze - 2nd place
Madison Taylor
Sports Nutrition - Gold - 2nd place
Kylie Thaxton
Abbey Marlette
Ruby Carbajal-Cardoso
Sustainability Challenge - Bronze - 1st place
Ginger Coble
Brianna Reed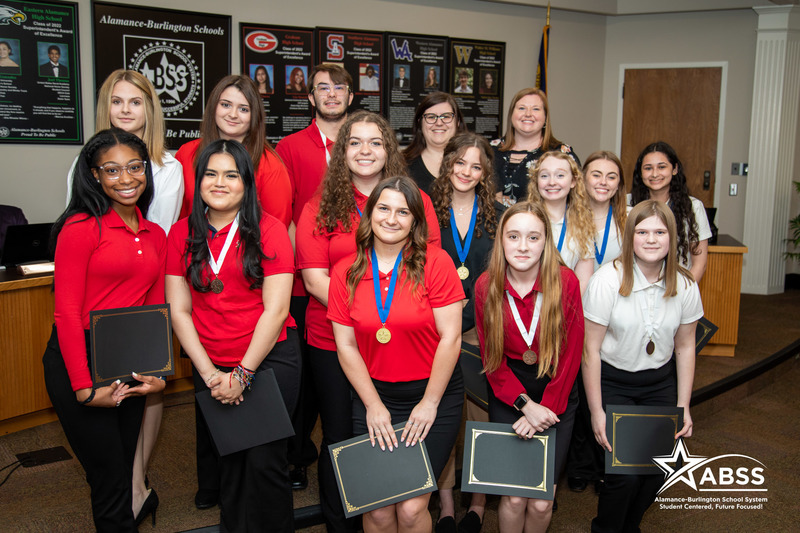 The ABSS Board of Education also honored The Village Project founder Dr. Jean Rattigan Rohr for her 15 years of service to the students and their families of Alamance County. Executive Director Travella Free accepted the recognition. The program is currently offering tutoring to more than 500 ABSS students.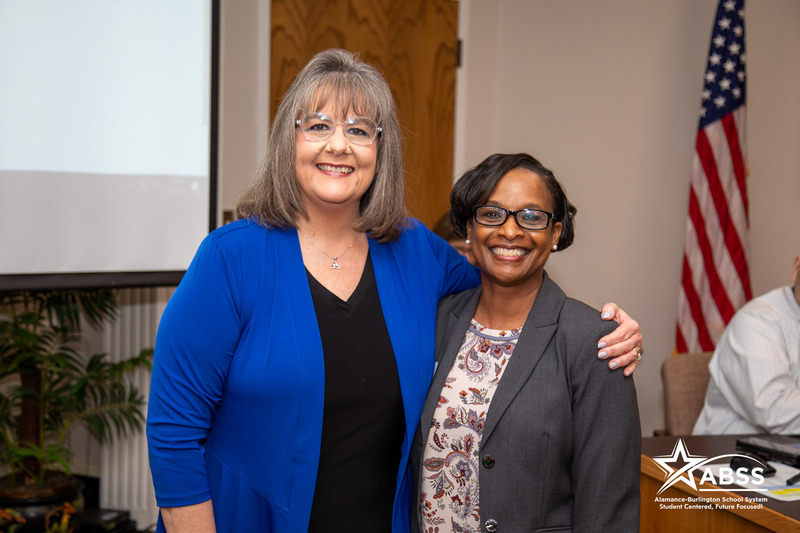 "Thank you from all of our past and present students for this life-changing and altering experience you have helped to provide for our students and families over the years," said Board member Donna Westbrooks.