The ABSS Board of Education welcomed its newest members Monday night. Alamance County Superior Court Judge Andrew Hanford administered the oath of office to Dan Ingle, Chuck Marsh, and Dr. Charles Parker.
"We are an ABSS family, with my wife being a Cummings graduate, two daughters graduating from Western, two grandchildren from Southern, and three grandchildren still in the District. I believe in ABSS and will do everything in my power to improve our student's educational experience," said Ingle.
Marsh thanked those who voted for him. "I'm extremely happy to be part of the ABSS Board of Education. I'd like to thank our community for putting their trust in me to represent them and our children. I hope to represent you well," Marsh said.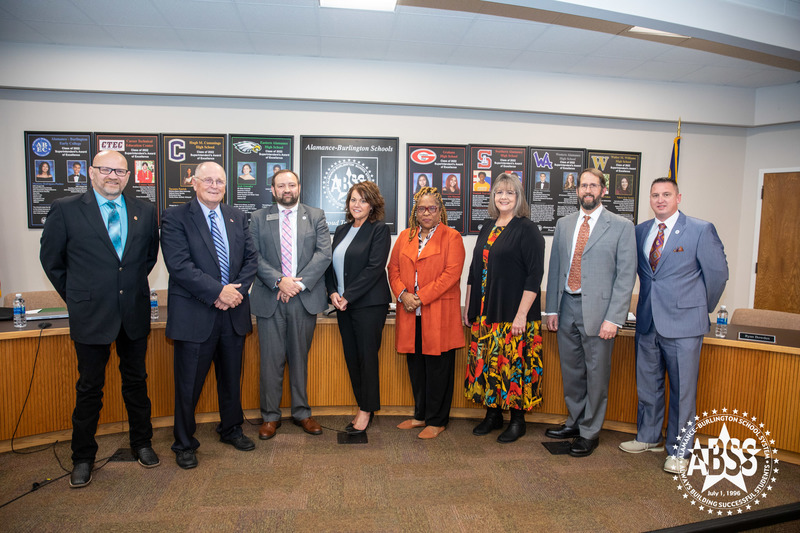 Dr. Charles Parker, who also works at Duke University as an educator said, "I am honored to serve on the Board of Education because as a father of three children in our public schools and as a scientist-educator myself I want the best education for every student at every school in ABSS."
Sandy Ellington-Graves was re-elected as Chairperson. Ryan Bowden was elected to serve as Vice-Chair.
Rezoning
With the new Southeast Alamance High School opening next fall, the Board agreed to allow rising seniors to remain at their existing school if they choose prior to January 31, 2023. The Board plans to discuss amendments to its transfer policy at its December 13, 2022 special called meeting prohibiting students from being reassigned into or out of schools that have been redistricted for one school year.
The North Carolina Athletic Association assigned Southeast Alamance to the Mid-State 1A/2A conference which means students will be playing in the same conference as Cummings and Graham.
New Administrators
In other news, Superintendent Dr. Dain Butler, along with the Board, announced a new principal for Pleasant Grove Elementary, Shanise Goldsby. Goldsby is no stranger to ABSS, having served as Assistant Principal at Broadview Middle since 2017.
Shanise Goldsby

Two new Assistant Principals were named for Eastern High School; Will Hemminger and Larry Watson. Watson has worked since 2011 in Durham Public Schools. Hemminger is currently at Western Alamance High School where he has served since 2017 as teacher and most recently as the school's Instructional Specialist.
Eddie Trygar was named the new Assistant Principal at B. Everett Jordan Elementary. Trygar has served the past four years as Assistant Principal in Chatham County.
Recognitions
Future Farmers of America students from Southern Alamance High School and three teachers were honored by the Board of Education.
Southern's FFA recently traveled to Indianapolis for the National FFA Competition where they competed against more than 65 thousand students from across the US. Students Julia Allred and Paicey Cameron scored in the top 10 in the nation. The Floriculture team placed third in the nation.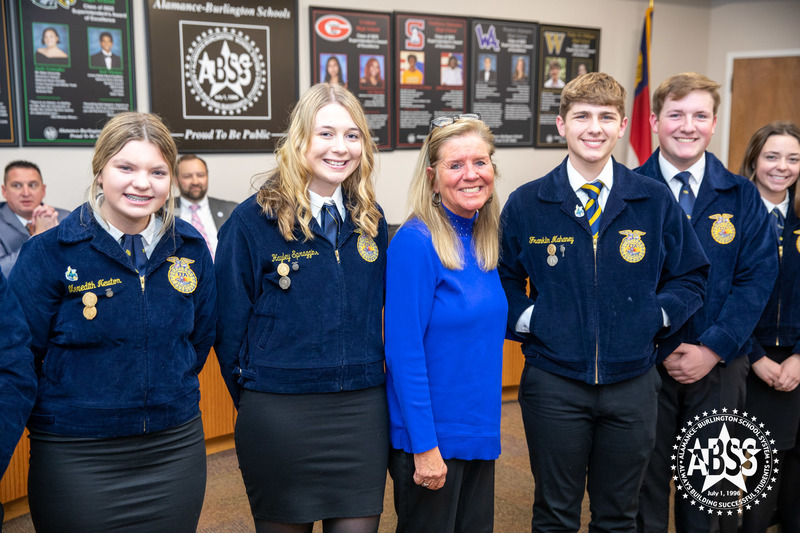 B. Everett Jordan School Counselor Meredith Draughn was honored for recently being named the 2023 National School Counselor of the Year by The American School Counselor Association. Draughn is the first national School Counselor of the Year from North Carolina.
Walter Williams High School Orchestra teacher Veronica Biscocho was named the 2022 Western Regional Orchestra Teacher of the Year. She, along with Eastlawn Elementary Music Teacher Pablo Salamanca, were given certificates by the ABSS Board. Salamanca received the Musicians Award from the North Carolina Symphony, recognizing emerging outstanding educators in the music field.