A familiar face will take over as Alamance-Burlington School System's Chief Operations Officer. Greg Hook who worked in textile operations prior to becoming an educator, will begin his new role March 1.
Hook earned degrees in textile management, marketing and business education, and holds a MSA from North Carolina State University, Prior to becoming a teacher and later an administrator in ABSS, he worked at Burlington Industries in management.
"Greg's knowledge of operations and his experience here in ABSS are a perfect fit for his new role at Central Services. As we continue to complete our various bond projects and look to expand in the coming years, I'm confident he will excel as our Chief Operations Officer," said Dr. Dain Butler, Superintendent.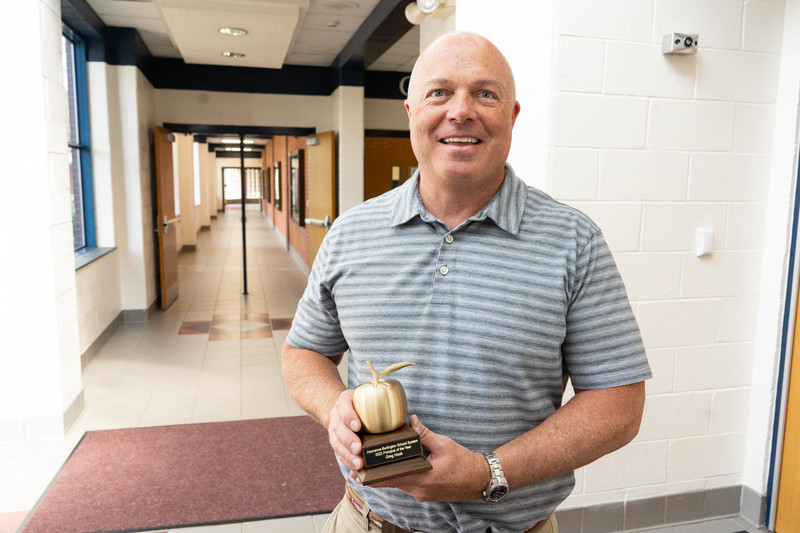 Hook has been the principal at Hawfields Middle since 2012 and was named the ABSS Principal of the Year for the 2022-23 school year.
Superintendent Report
In other news, Superintendent Dr. Dain Butler presented his entry update to the Board summarizing his first six months. Butler says the open communication between community members, families, teachers, staff, and students has been positive.
"From my conversations, the growth of Alamance County seemed to be exciting and concerning all at the same time. I think we all realize the many opportunities that come with growth and the uncertainty that comes with change, he said.
Butler told the Board he will continue to be transparent with the community to build trust and encouraged all stakeholders to become more involved in keeping our schools safe. He also pledged to protect classroom instruction time, to prioritize teaching supplements as a budgetary focus, and continue to be laser focused on recovering post-pandemic student learning loss.
Butler will begin the process in the coming months of developing a five-year strategic plan for ABSS.
The full presentation is available here: https://5il.co/1nos1
Southeast Alamance Update
Moseley Architects and Samet Construction presented a report on the progress of the new Southeast Alamance High School which opens for students in August. The athletic fields have been completed in preparation for summer workouts. Over the next 30 days, exterior doors and hardware will be completed and permanent lights and receptacles will be installed.
"A building this size has to be completed in phases. The masonry is 95 percent done. We're complementing the administration areas, kitchen, and classrooms now. Areas like the gym will be last. We will be turning on the HVAC soon as well. It's moving along on time and on schedule," said Ken Grube, Samet Senior VP.
The substantial completion date for all stages is late May.
School Calendars
The ABSS Board of Education approved the 2023-24 academic calendars for both the Early College at ACC and the traditional calendar. The link can be found here: https://www.abss.k12.nc.us/documents/parents-%26-students/school-calendars/academic-calendars-2023-2024/409015
Curriculum & Family University
High School Registration opens February 6, 2023. Each traditional high school will hold a high school registration event at their school to showcase all the offerings that students can take in our District. All current 8th through 11th graders are encouraged to attend their school's registration fair.
A new mascot was approved by the Board for the Early College at ACC. The school opened in the fall of 2015 with no mascot. The students proposed they be known as the ABEC Cobras.
In an effort to help families further support their children excel in their educational journey, ABSS is hosting the first of many Family University nights. Families are encouraged to come have dinner, meet the superintendent and Board, and learn more about how to help their children succeed.
Some of the sessions include: strategies for reading and math, how to survive and thrive during those middle school years, cyber safety, ACT prep, preparing for college and more.
The free event is open to families of Pre-K through 12 grade. Dinner begins at 5:30 p.m., sessions begin at 6 p.m.
ABSS Family University will be held Monday, January 30th at Cummings High School. Free child care will be provided for children aged Pre-K to 5th grade.
For more information, including a full menu of sessions available, please check out our website: https://www.abss.k12.nc.us/page/abss-family-university
Recognitions
The Board recognized Lindsey Criss who was named the 2023 National Teacher Educator of the Year. Lindsey is the ABSS Career Technical Education Curriculum & Instructional Management Coordinator. The District is honored to have Criss represent ABSS on the national level.
The Cummings Band presented the Board with the signed plaque from their recent trip and performance at the Sugar Bowl Halftime show in New Orleans.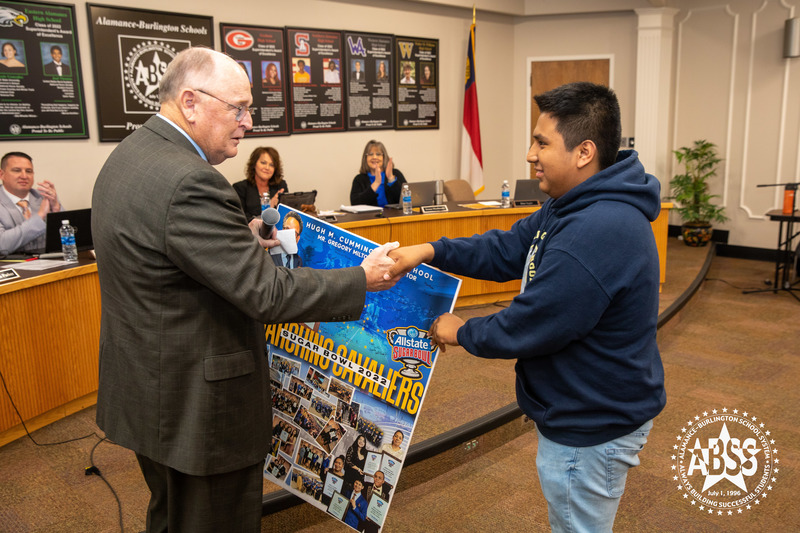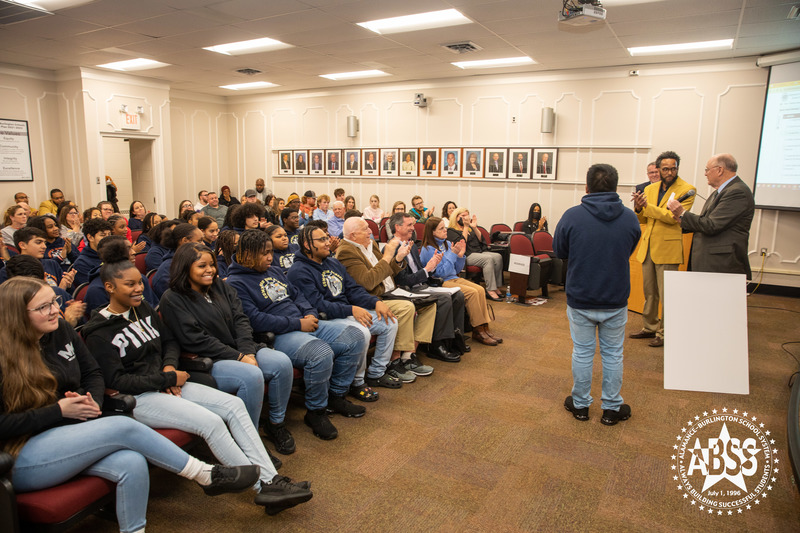 The Board of Education was also honored as part of Board Appreciation Month for their service and for being advocates for public education.